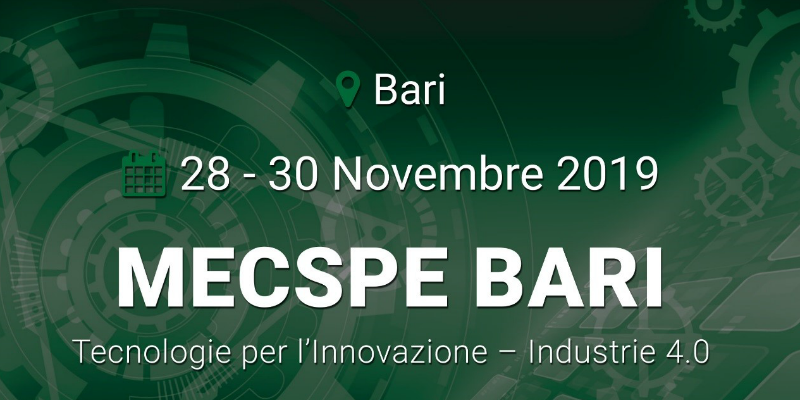 Piazza della Formazione, PADIGLIONE 20 – A28, Nuova Fiera del Levante Exhibition Center
Presentation of HISTEK project at MECSPE BARI 2019
Overview
ITS Antonio Cuccovillo will present HISTEK Project at MECSPE BARI, Technologies for innovation - Industrie 4.0, in the Nuova Fiera del Levante exhibition center.
MECSPE is the most important fair in Italy for the manufacturing sector and the largest event dedicated to innovations for the manufacturing industry.
MECSPE Bari is a new edition for the Central and Southern Italy market and for the Mediterranean Basin characterized by the presence of 6 exhibition areas: Machines, Automation, Logistics, Technology 4.0, Materials, Processing and services for third parties.
An opportunity for business and networking, where to discover the excellence of the entire supply chain for an intelligent factory, through courses dedicated to the key themes of innovation and digital transformation.
In the framework of this important fair, a special workshop will be dedicated to our HISTEK project, with the aim of disseminating the work we are doing together on the Education/SMEs collaboration model at the CB level.
The workshop will be held on 29 November from 12:30 to 13:30 inside the "Arena", Piazza della Formazione, PADIGLIONE 20 – A28.
All the stakeholders interested are warmly invited to take part to the event.
You can find more information about this event on the following link.